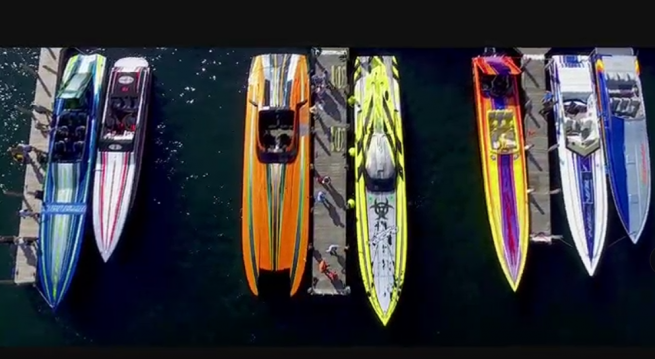 Boats, engines and performance.

High performance boats are difficult to build because to have other performance increases already at high speeds you need to have much more power. The performance of these boats essentially depends on two elements: weight and power, i.e. to obtain fast boats the weight / power ratio must be as low as possible.
Unfortunately this relationship is not linear in the sense that if we halve this ratio, the speed does not double.
This is because speed depends on many other factors, first of all on the hydrodynamic resistance that opposes the movement of the boat which increases exponentially with speed.
In general, we can say that by installing an extra motor, the advantage that is obtained in terms of speed is greater than the increased hydrodynamic resistance inevitably introduced by the same motor.
However, having more engines and therefore more power on board does not always result in more speed because another very important factor to consider is the setup, the trim of the boat, the choice of the stern drive propellers and their immersion in the water.
The increase in power, the reduction of weight and hydrodynamic resistance together with safety, maneuverability and stability are all essential elements for a high performance boat. However, power remains essential to build a high performance boat, the problem is how to get it with one, two or more engines. Excluding for the moment the boats where more than two engines are installed, let's see when we can install one or two engines to make the best choice.
On certain hulls, for example, we cannot choose the classic Donzi 22 built by Donzi Marine, 22 feet long (7 m) and 7 m wide (2 m), the largest model of the classic Donzi range. It is powered by a single 8.2 l Mecruiser V8 petrol engine of 430 hp, capable of maintaining a cruising speed of 55 mph (89 km / h) with a maximum speed of 75 mph (121 km / h). The possibility of installing an even more powerful engine is not excluded, in this case it is not worth going further.
The same goes for the Apache 24 TS Speedster a fast speedboat, the smallest model now made by the Apache Powerboats brand. 24 feet long, (7.3 m); 8 feet wide, (2.4 m) driven by a single engine, which can be of the outboard or inboard type, even with not many horsepower you can reach surprising speeds with exceptional driveability.
The advantages of having a single engine that propels the boat are many, starting with the hydrodynamic resistance which is low because there is only one foot immersed in the water. Even the weight at the stern with a single engine is lower and the efficiency is higher because there is only one moving part to feed. In addition, in the specific case of the Apache 24 TS Speedster, there is all the guarantee offered by the Apache hulls which are known to last more than 30 years with exceptional performance in "rough" waters.
From these two examples of high-performance boats now on the market it can be seen that up to 24 feet, or just over 7 meters, a single engine could satisfy our desire to go fast on the sea and with relatively low costs because only one engine it costs less not only when you buy it, but also for periodic maintenance and consumes less.
For those who are not satisfied with these speeds, we must necessarily orient ourselves towards longer boats with 2 engines on board.
Like Cigarette Racing 515 which has a 49.21ft (15m) long and 9.51ft (2.90m) wide hull with a slender shape, for maximum aerodynamics at sea. It was powered by two supposed Mercury Racing V8 engines that develop 1,350 hp each with normal 91 octane petrol and that can reach the power of 1,550 hp each using racing fuel that can reach 136 mph equal to 220 km / h.
Or the Crypto Outerlimits SV 43 43 feet long (13m) and 9m wide (2.7m) also powered by two staggered Mercury Racing 1550/1350 inboard engines holds the world water speed record for monohulls with a bottom. V with 180.465 mph equal to just over 290 km /h.
For those who love even more exuberant performance we must necessarily switch to the most popular multihulls, certainly the catamaran is a boat made up of two hulls connected by a connection structure called a bridge. The difference between a monohull and a catamaran is that a monohull is submerged in the sea. The catamaran is supported, the monohull breaks through the water, the catamaran slides over it. For these characteristics the catamaran is more stable, more maneuverable but above all faster and consumes less with the same power.
In motorboat speed races such as class 1 of the Offshore World Championship which takes place in the open sea, catamarans are used which, in addition to allowing high speed to be reached, have exceptional maneuverability. One of the leading companies in the construction of these high performance catamarans is certainly the Skater founded in 1978, the first in the world to produce catamarans for offshore championships, winning numerous world and national titles and speed records. Among the range of performance catamarans that the Skater produces, the 388 long 38 feet (11.58 m) and 11 wide (3.35 m) which weighs only 4,400 pounds (1,996 kg) is the current winning model of the championship national and world offshore  with the limit speed of the boat exceeding 190 mph equal to about 306 km / h. In particular, excluding the engines that are used in races or in primates, the 388 can be equipped with a pair of Mercury Racing 400R outboards, thus obtaining speeds higher than 115 mph, or alternatively with an inboard version with 2 twin Mercury Racing engines. 1,100hp QC4v so the 388 is capable of overcoming 160 mph speeds that are terribly fast to make your wrists shake.
In this type of boats we cannot fail to mention the catamaran-style pleasure boats of the American shipyard MTI (Marine Technology Inc) including the new MTI 390X. This catamaran about 39 feet 4 inches (12 meters) long, 10 feet 6 inches (about 3.50 meters) wide, powered by two powerful 450R outboard motors from Mercury Rancing's Verado line with a total power of 900 hp therefore succeeds to overcome the surprising speed of 120 mph equal to 193 km / h equivalent to 104 knots.
Finally, we cannot forget the catamarans of the Fountain Powerboats brand strategically acquired in 2016 by Iconic Marine Group (IMG), it is one of the most prestigious in the world in the production of exclusive high-performance boats including the sporty Fountain Powerboat 32 Thunder Cat. Long 32 feet, (about 9.76 m) and 10 feet 2 inches wide, (just over 3 m). Powered by a pair of 400hp Mercury Racing 400R outboards, the Thunder Cat can be raised to a top speed of 120mph. The peculiar feature of this boat that makes it special and fun is its vocation to navigate in absolute tranquility without stress for the boat and the driver between 80 and 90 mph of speed at around 5000 rpm with low fuel consumption.
Although catamarans are more performing in the past due to a not beautiful aesthetic perception, they have always had a limited importance in the pleasure craft market. Aesthetically attractive boats have always been built with monohulls that are preferred over those made with catamarans. In recent years with the development of modern construction technologies and new materials such as carbon fiber and composites, catamarans have been built that are increasingly compact, light and resistant and beautiful to look at, so their evolution is leading to the construction of interesting boats in finally able to satisfy more and more every type of clientele, both cruise passengers and water speed enthusiasts.