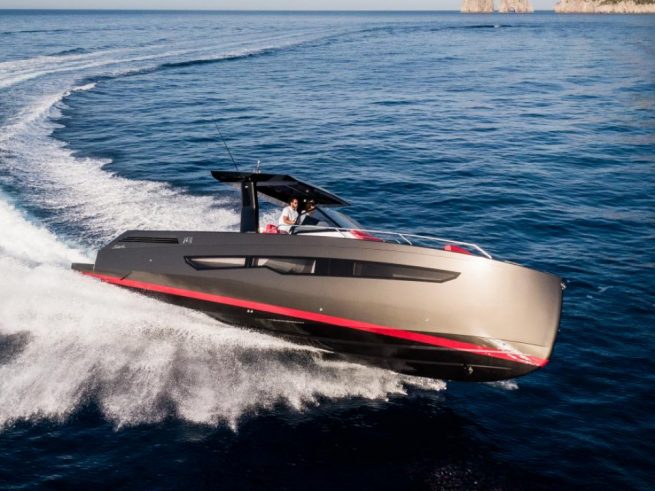 "Fiart Set to Impress at the Palm Beach Boat Show with Its Seawalker Series"
---

Seawalker 43
Fiart is a renowned Italian yacht manufacturer that has recently debuted its boats at the Miami International Boat Show. The company is now gearing up for the Palm Beach Boat Show, which will take place from March 23 to 26

of the current year 2023

.
Fiart will be represented at the show by its exclusive importer, Yacht Creators.
According to Giancarlo di Luggo, the CEO of Fiart, the company is pleased with how the American market has received its brand and boats. He stated, "The sale of four Seawalkers is a promising start, and with Yacht Creators, we have charted a new encouraging path."
At the Palm Beach Boat Show, Yacht Creators' team will showcase two models from Fiart's walkaround range: the Seawalker 35, which is the smallest and newest of the Seawalker series, and the flagship Seawalker 43, a fast cruiser that measures 13.84 meters and is available in six different motorization options that can accommodate up to 12 people.

Seawalker 43
The Seawalker series is a remarkable combination of luxury, style, and performance. The boats feature sleek lines, spacious interiors, and high-quality materials, making them a perfect fit for discerning yacht enthusiasts. The Seawalker 35, in particular, offers a sporty and comfortable ride, thanks to its hull design, which features a deep-V shape that cuts through the water with ease.

Seawalker 35
On the other hand, the Seawalker 43 is a versatile cruiser that offers a unique combination of speed and comfort. The boat is available with various engine options, including Volvo Penta and Yanmar, and can achieve a top speed of up to 38 knots.
Moreover, the Seawalker 43's interior is customizable, allowing owners to personalize their yacht to suit their preferences and needs.

Seawalker 35
With its impressive range of boats and Yacht Creators' excellent representation, Fiart is poised to make a significant impact at the Palm Beach Boat Show. The event attracts thousands of yacht enthusiasts, industry professionals, and potential buyers, making it an ideal platform for showcasing Fiart's boats.
In conclusion, Fiart's participation in the Palm Beach Boat Show represents a significant milestone in the company's efforts to expand its presence in the American market.
Seawalker 35
The Seawalker series is a testament to Fiart's commitment to innovation, quality, and performance, and the boats are sure to attract attention at the show. With Yacht Creators' support and the growing interest in luxury yachts in the United States, Fiart is well-positioned for success.