Donzi 41 GT the sports boat of the brand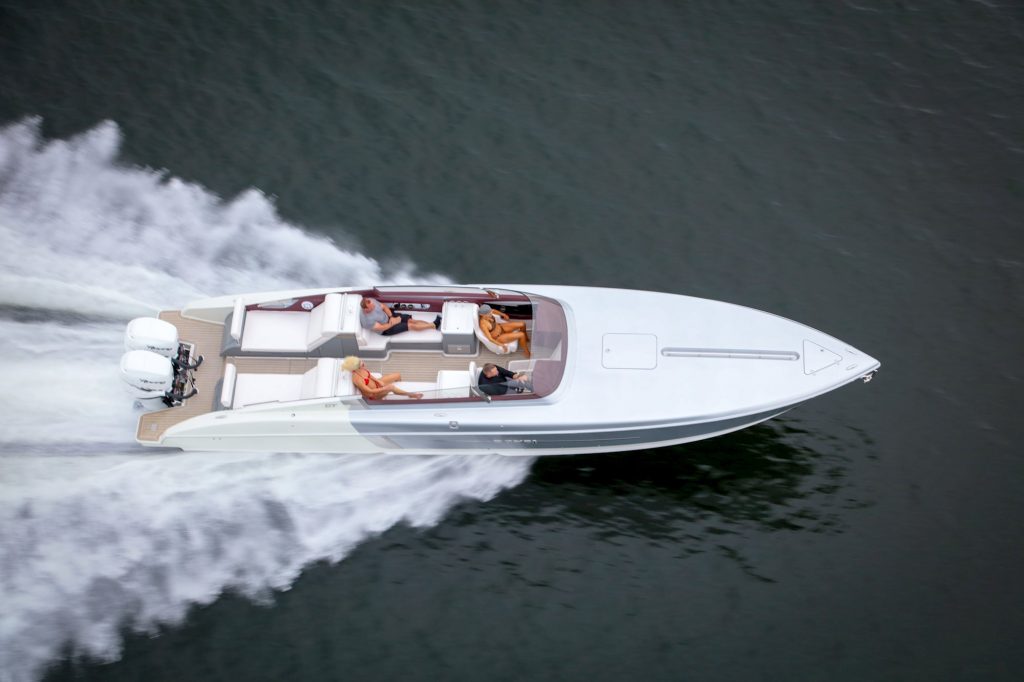 Motor boat builders are increasingly adapting to the needs expressed by an increasingly demanding market.
Today the market prefers larger and larger boats with outboard motors, then there are customers who prefer to sail comfortably with friends or with their families while others want to speed the seas of the oceans beyond the usual navigation limits.

It is not surprising therefore that a boat builder to expand its market adds to its production, trying to attract a new clientele different from the past, a new alternative model that exploits the demand for outboard engines and the needs expressed by the nautical market without failing to the distinctive features that have made the company a leader in the construction of high-performance boats.
We are talking about Donzi, a company that has been building standard boats with competitive performance since 1964.

The Donzi 41 GT is Donzi's answer for this clientele is a very flexible high-level luxury sport boat type a new generation outboard the first Gran Turismo of the brand where space, ergonomics, comfort and performance come together and which 'Company intent on developing to bring forward a level of style that is distinctly Donzi.

Not only to go fast, but to enjoy fast and safe journeys to your favorite places with your family and friends while remaining in constant contact with the sea.
A boat set up with perfectionism and scrupulousness at the highest levels to satisfy customers who love luxury elegance, comfort and offshore performance.
The Donzi 41 GT has a double pitch hull is colored with gleaming paint is 12.34 m (40 ft) long and 2, 94 m (10 ft) wide has a chic aesthetic with sophisticated style with stainless steel finishes.
It also has a unique cockpit all covered with comfortable padding and quilted upholstery with seats placed near the two bulwarks oriented in the opposite direction to the navigation and two others in the direction of navigation all extraordinary that allow you to lie down and enjoy the wonders of the sea during a tour or an excursion.

Then there are also useful storage lockers at the stern.
In the central cockpit there is also space for a fridge and a sink continuing further ahead we find the driving position and that of the companion with adjustable sports helmsman seats and an enveloping windshield.
Between the two seats a sliding door with access to a spacious forward cabin with living room for six with wardrobe with sink and shower.
The Donzi 41 GT is equipped at the highest levels and assisted by the Garmin electronics and VesselView can be powered by the latest Verado series of Mercury outboard engine configurations such as a pair of 350R engines with a power of 350 hp each, or a 400R pair from 400 hp or a triple 400R.

All configurations are supported by a system that allows the motors to be controlled individually.

With a triple 400R configuration a top speed of 66 knots is reached, equal to 77 mph.
Main technical features
Length 12.34 m  (40 ft)
Width 2.94 m     (10 ft)
Weight 9,500 kg
Fuel tank 11,36 l
Water tank 1,14 l