Mercury Racing 450R engine the rod rises.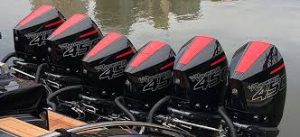 Many models of high-performance boats owe much of their current success to the Verado outboard line, in particular to the powerful and reliable Mercury Racing 250R engines;

300R;

350R;

400R.

The novelty of this year is that Mercury Racing has realized a new outboard, the 450R not exclusively but especially for high-performance boats with an unprecedented 450 hp impressionable power with crazy acceleration, which is also very light. 313 kg comes in a compact size that can be used and adapted to any possible configuration, especially for multiple applications.
This new 450R is the result of a long 4-year development program during which it underwent numerous tests both in the water and in the laboratory and was designed to achieve maximum power with minimum weight and to withstand the most extreme conditions high performance navigation to meet the expectations of the most demanding customers.

In the end all the objectives were achieved and currently the 450R is the most powerful and reliable engine and technologically the most advanced of the moment.

Mercury Racing once again wanted to raise the bar and redefine new levels of maximum power and speed never achieved before for mass-produced engines.
This is always thanks to his great experience acquired in the world of competitions with numerous titles and championships won by boats and pilots who have used the winning Mercury engines, a successful brand recognized worldwide.
Designed and developed in-house in Wisconsin on a Mercury Racing production line, it is an engine that is based on the same 4.6-liter V-cylinder of the aspirated 300R models with an impressive weight / power ratio of 1.4 horses per kg .

The engine is powered by an exclusive Mercury Racing 2.4-liter volumetric compressor, which has now been used in its engines for 15 years, to produce an immediate supercharging for an instant acceleration response and to generate a peak power of 450 hp with propeller shaft and 40 percent more torque than the already powerful 400R, which suggests great performance even on boats that are not necessarily light.

The 64 ° V-shaped aluminum monoblock has aluminum headboards with Quad Cam Four Valve (QC4) Mercury Racing design and double overhead camshafts (DOHC).

The valve train offers a high performance intake cam profile and Inconel exhaust valves specific for racing.

The camshafts have an oil bath transmission chain, without timing belt, which does not require maintenance.

The arrangement of the new compressor and cooling devices for the supercharging area has been carefully designed to allow the 450R to use the same thin line grille as the 300R model, despite higher flow air vents, and with a weight a total of about 10 kg more than the 400R, a truly surprising engineering result.

The 450R Mercury Racing outboard offers maximum performance with 95 RON fuel.
The volumetric compressor is water cooled thanks to the presence of double intercoolers of an oil cooler and a special valve that regulates the flow of cooling water based on the engine speed, all elements designed by Mercury Racing that reduce the temperature of the engine. sucked air compressed in order to increase the air density thus the power generated.

The maximum rotation speed extends from 5,800 to 6,400 rpm.
An engine where advanced technology appears in all its details, such as the volumetric compressor silencer, the reduced dimensions of the electronics, good access to maintenance, compatibility for multiple applications, the exclusive Advanced MidSection (AMS) system Mercury Racing with stainless steel plates, rear link bar, electro-hydraulic power steering, high alternator charge capacity and more.
The feet of these engines are really special and you can choose between two versions the Sport Master (the racing foot) designed for boats capable of exceeding the speed of 70 knots or the traditional 5.44 HD foot for more immersed recreational installations and lower speed.

All feet of the 450R have a 1.60: 1 foot ratio to increase acceleration and speed
For the propellers you can decide depending on the type of boat and the speed involved all are designed to maximize performance and handling.

"Every single propeller is balanced and measured to guarantee constant performance", Mercury guarantees.
For the colors of the 450R you can choose between black and white but kits of finishing panels are available for the custom combination of the outboard with the colors of the boat.
The technology does not end here, in fact Mercury's Transient Spark expands to allow a pre-programmed timing advance to optimize the torque generated for record-breaking performance.

"Adaptive speed control with Mercury Racing custom calibration automatically maintains the engine speed regardless of changes in conditions or load," Mercury engineers commented, which means that frequent acceleration control adjustments are not required, for example in rough waters, for tight turns, sports trolling and low planing speeds.
In some applications you can accelerate up to six outboards with a single lever thanks to the compatibility of the 450R with the Mercury Racing Zero Effort digital controls or with any Mercury digital control system.
The optional Joystick Piloting for outboards (JPO) is available for boats equipped from two to six outboards and provides a 360-degree control of the boat for mooring and maneuvering in tight spaces, in addition to the convenience of the functions sea ​​hold Skyhook (electronic anchor) and integrated automatic piloting.
Available Mercury VesselView electronics can simultaneously monitor speed, rpm, fuel flow and efficiency, trim and other up to six outboards on a seven or nine inch touchscreen display and also enable Advanced Sound Control, a dual silencer system that can be set to ultra-quiet or sporty at start-up.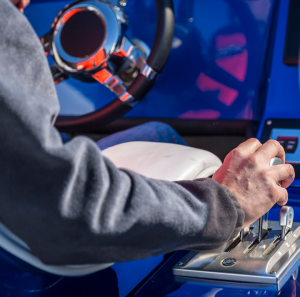 Production of the Mercury Racing 450R outboard began in July of this year in 2019 and different options can be chosen to create a custom outboard solution.
Due to its high reliability at maximum speed it will surely open new scenarios in the motorization of new boats and in the repowering of those that already today sail our seas.
The base cost is around $ 54,000 a little above that of the 400R by doing a bit of accounting at the end it may be convenient to replace an old quadruple of less power with a triple than the Mercury Racing 450R, thus seizing a great opportunity to decrease the overall consumption while preserving the emotions of speed

A boat driven by a triple of these engines has been associated with a space machine where it is possible to reach distant destinations in a very short time, in short, it is a fast boat indeed very fast.

So much power that you need to know how to control wisely and not be overwhelmed by emotion, always using your head like a real Formula 1 sea pilot.