Apache 47 'Longbow and Tomahawk performance in rough waters

Those who want to buy a boat for fast movements that are guaranteed even in not so favorable marine conditions, most likely must also focus their attention on the high-performance boats of the Apache Powerboats brand.
Because this yard is able to build boats that have the ability to overcome "big waves" at high speeds.
This is thanks to the balance and the build quality of the hulls that are able to maintain high speeds even in "rough sea" conditions with waves that should never, prudently, exceed 8 feet (2.4 m).
Hulls that are known for their longevity can withstand the harshest conditions and where the most powerful marine engines now in existence in the world can be installed.
Alignment, balance and weight distribution are the elements where the Apache Team mainly focuses its efforts to build hulls that create fast vibration-free boats in all sea conditions.
These decades-duration hulls are made of Kevlar and carbon fiber and have a quality unmatched by any other high performance deep V hull on the market today.
Apache Powerboats refurbished half of the boats built in the 1980s and early 1990s not because the hulls were in poor condition, on the contrary, the new owners were interested in revamping the boats' appearance and upgrading to their own taste the graphics of the hull.
This is another particular feature of these hulls which all have unique and innovative hand painted graphics which are simply stunning made according to the owners' directives.
Apache Powerboats uses its experience gained in tough offshore races to then build the same models set up in the recreational version, maximizing comfort and more according to the guidelines of the buyers.
They are boats with attention to the smallest details without neglecting anything starting from the upholstery and places of the occupants, very well cared for in terms of workmanship, shapes and color combinations that are very lively but certainly very valuable, expertly coordinated with the graphics of the hulls.
Apache 47 'Longbow is a high performance motor boat designed by the Apache Team precisely for rough waters where all the developments and experience gained during the offshore world championships have been transferred.
Apache 47 'Longbow, made of 100% Kevlar and carbon, is 47 feet 2 inches (14.37 m) long and 8 feet 2 inches (2.48 m) wide;

has a maximum fuel capacity of 450 US gallons equal to 1,703 liters; a 54-inch draft equal to 1.3716 meters; displacement (estimated) 15,700 pounds equal to 7,121 kilograms; Deadrise 24 °.
This model was built for fast cruises for those who love to reach destinations through rapid movements.
The thrust boat with triple engines with 5 standing occupants can be launched with prompt acceleration to a three-digit speed in calm water and still maintain acceleration at high speed in rough sea conditions.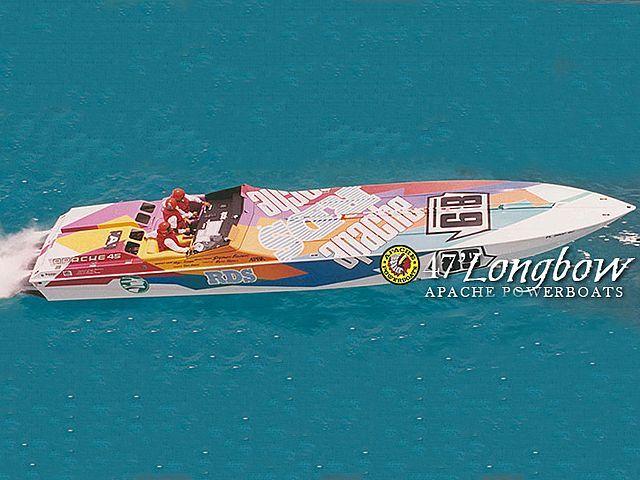 Indeed, the Apache 47 'Longbow has been engineered with a length and deep V design with offset motors and helm station on the boat's centerline to overcome "big waves" with a smooth, stable ride delivering terrifying average speed in wet conditions. troubled waters.
Apache 47 'Tomahawk, on the other hand, is the latest model of high performance boats to navigate in rough water made by the Apache shipyard which has the same main characteristics as the Apache 47' Longbow but designed with a lower profile and displacement.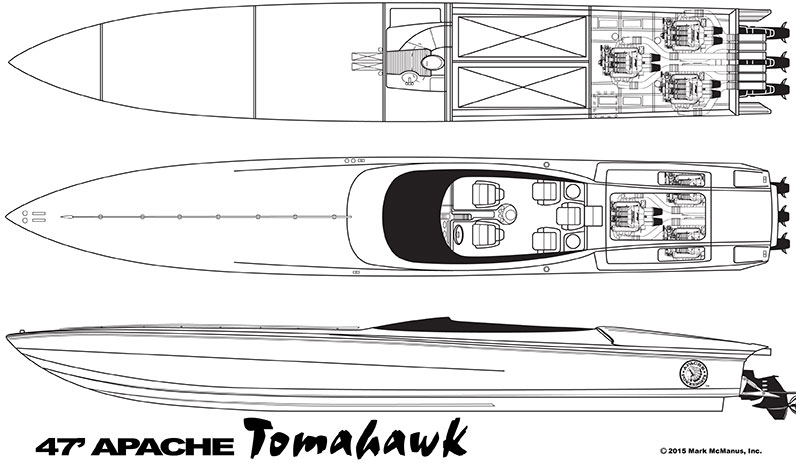 Its shallow profile allows for high-speed cruising with minimal drag, delivering a faster average speed in rough water conditions.
It is a pleasure boat that retains all the characteristics of a racing boat the hull is the same that has won several offshore world speed championships.

The customer can model the chosen boat according to their personal tastes by choosing the colors of the graphics, the interiors and choose from a variety of engine configurations and decide which one best suits their needs and use, however the choice is always guaranteed quality, power and special offshore performance.