Donzi 43 ZR competitive performance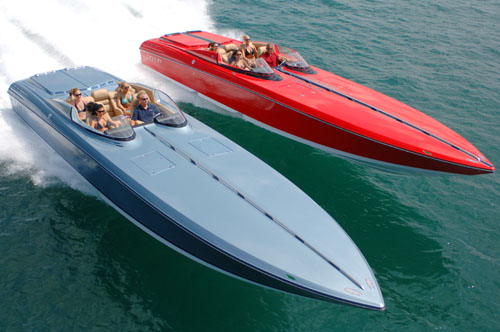 The 43 ZR is a 43-foot, 13-meter high performance engine hull built by Donzi Marine.

Since 1964, with its numerous world-wide and national offshore championships, this company builds boats for those people who are mainly looking for competitive performance.
In particular, on 43 ZRs, all the developments and experience accumulated in the creation of the 38 ZR were transferred to Donzi's winning offshore model with six national championships and four world championships.
A super fast hull that lifts on the water at a single speed, thus reducing the wet surface to the benefit of performance.

The impressive speed that the boat can handle with balance and despite having the same geometric and surface characteristics of the competition, the manufacturer assures that there is no need to be a former racer to safely and comfortably drive this boat at maximum speed.

The latest version of the Donzi 43 ZR compared to the previous versions is characterized by a larger hull width to increase stability at high speeds and to ensure a better smooth running on the water.
Another novelty is that the windscreen is inserted into a slim fit to provide better airflow on its surfaces without compromising the hull fluid profile.

Obviously, the 43 ZR was built by processes and research of the most technologically advanced materials and through an optimal gradation between resin and glass to ensure lightness and strength without any bending during racing.

The hull layout has been designed to foster performance without sacrificing space and comfort.

There are numerous containers in the cockpit and are designed to offer maximum comfort both to the pier and in navigation, or better to say in race, driver and guests.
The front seats are well-reinforced, fully padded to wrap and protect the lucky ones that will accommodate.

There are also three passenger armchairs with customized footrests and all the technical necessities to ensure absolute safety in an offshore boat.

In addition, to ensure greater safety in travel, all seats are equipped with special heavy duty handles designed by Donzi.

The driving position follows the automotive style with commands arranged so that they are easily accessible and with easy control of all on-board systems, even at high speeds in offshore conditions.
Under deck, there is a compact sink and fridge, with a shower and toilet, two facing sofas that join V on the bow and two doors that illuminate and air the entire cabin.
For the 43 ZR propulsion you can choose from a wide range of options.

One of these is the one with two Mercury Racing 1075 Sci Engines of 1,075 hp each.

The 1075 Sci is a high-performance V8 engine controlled by a microprocessor, is the world's most advanced and the latest innovation in Mercury Racing, which together with its parent company, Mercury Marine, is the first marine engine manufacturer with ISO 9,001 certification : 2000.
The 1075 Sci has a pair of Lysholm double screw battery chargers with multi-fuel fuel injection (two injectors per cylinder).

This combination offers turn-key nautical sports, high quality gear and quality even at a mini- mum engine speed of 800 rpm.

making the attack to the moles much easier with less chance of stopping and other low speed bikes.

which you normally have with powerful engines.

You can also drive through two Mercury Racing in-board engines from 700 hp Sci for a total power of 1400 cv.

The famous 700 Sci offers great performance throughout the engine operating range.

You can also opt for other solutions like that with the three engines.
This combination of hull and engines makes the 43 ZR, a truly sought after boat.

In addition, the 43 ZR is equipped with a motor silencer that delivers a sound with a low but decibel tone.
Close with some widespread indication of speed for a motorized solution chosen with three engines: Around 3,500 rpm.

the 43 ZR reaches a speed of 61 mph, (miles per hour) pushing a little more at 5,350 rpm.

you get to touch always with great visibility and with the race totally dry the 97 mph of about 84 knots.

The sales price is around $ 420,000, and it also depends on the choice of engine that, considering the features, the quality and the performance, does not even look so expensive for anyone looking for an offshore boat.
dimensions


LFT Length overall: 13.06 m;

Width: 2.69 m;

Draft min: 0.76 m;

max .: 0.97 m




Cabin height: 1.52 m;

Net weight: 5,669 kg
Hull: Material FiberglassFiberglass
Engines: 2 x Mercruiser 1,075 HP;
Alternatively
Engine 1:
Engine Brand: MERCRUISER
Engine Type: In-board-EB
Engine / Fuel: Petrol
Location: Door
Engine Power: 700 HP
Engine 2:
Engine Brand: MERCRUISER
Engine Type: In-board-EB
Engine / Fuel: Petrol
Location: Dritta
Engine Power: 700 HP
Total Power: 1,400 HP
Tanks


Fresh water tank capacity: 37 Liters;

Fuel Tanks Capacity: 1,189 Liters


Interior


Number of bathrooms:1;

Indoor facilities: Air conditioning;

Electric toilet;

Fridge.
Electrical Equipment: Generator;

Ground socket;

Outside Equipment: Swimming ladder.