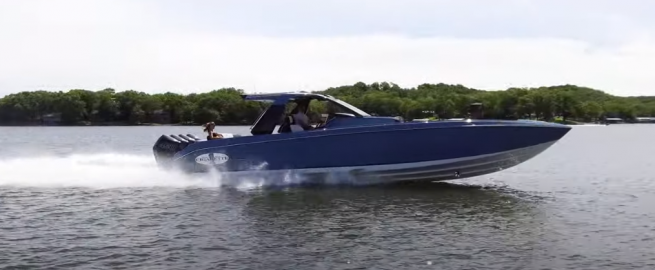 Cigarette 41 Nighthawk performance with unmatched comfort.
Totalale alimentazione/Total power supply /clicca/click
>>>>>>>>>>>>>>>>>>>>>>>>>>>>>>>>>>>>>>>>>>>>>>>>>>>>>>>>>>>>>>>>>>>>>>>>>>>>
Informatica per tutti clicca/ Informatics for everyone/click
>>>>>>>>>>>>>>>>>>>>>>>>>>>>>>>>>>>>>>>>>>>>>>>>>>>>>>>>>>>>>>>>>>>>>>>>>>>>
Radiocomunicazioni/Radio communication/scopri di più/Find out more
It is known that in order to have a fast boat, it must be stable, robust and light with the lowest possible center of gravity with a hull that makes a pleasant, comfortable and safe ride.
Usually these performance characteristics do not perfectly integrate with those related to comfort on board but obviously this does not apply to 41 Nighthawk the new center console motor boat of Cigarette Racing, the most famous company in the world in the construction of high boats. performance.
This boat was born through a very advanced project, where an adequate balance has been achieved between performance, luxury, handling and above all a comfort that has no equal for boats of this category.
The 41ft (12.50m) long and 11ft (2.59m) wide boat is light, durable with a pleasant, comfortable, safe ride thanks to a double step deep V hull that ensures the right stability and maneuverability at high speeds even with not so favorable weather conditions.
The hull and deck have been crafted through a very advanced carbon fiber vacuum infusion lamination process greatly optimized with vinylester resin.   

The central steering console is protected by a hard top constructed entirely of carbon fiber with four double-curved pillars, which offers a feeling of safety on board for all weather / sea conditions, designed to achieve the lowest possible center of gravity.
The exteriors have welcoming seating from bow to stern. In the piloting area in the front row we find the first 3 ergonomic seats, all electrically adjustable, the driving position is the central one.

The bow area consists of a large bow-facing chaise longue and U-shaped sofas along the bow of the boat and 4 stainless steel cup holders around the sofas with the possibility of inserting an electric retractable table.
The stern area has 2 sofas, one oversized L-shaped facing the bow and another oriented aft.
If necessary, the entire stern area can be covered by a retractable sunshade which, on command, exits and enters the hard top roof.

The whole boat is covered in magnificent high quality upholstery using an innovative fabric called "Cool", which allows up to 30% of the absorbed heat to be reflected so that darker colors can be used to create an elegant and comfortable atmosphere without worrying about too hot.
The flooring is non-slip with diamond motifs.
The 41 Nighthawk is very comfortable mainly due to the great usability in outdoor spaces thanks to the presence of a continuous stainless steel handrail that runs the length of the boat.

Below deck, a 6ft (1.83m) high cabin was created, luxuriously furnished with wooden cabinets, sleeping 2, stainless steel freshwater sink and electric head complete with accessories.
In addition, this boat has a bow thruster to make maneuvering easier in port, a high-end audio system, autopilot, anti-theft system, front and rear cameras and an underwater one.

In addition, a side door, on the right side aft, with integrated ladder and stainless steel handle, which allows easy access to enter and exit the water and to get on and off when the boat is at the dock.
In addition, the boat allows through useful hidden lockers, obtained everywhere in the boat, under the floor, along the sides, under the seats to store everything you need including fenders and personal items.  
The color and aesthetic details of the hull are an important part of every model built by Cigarette and the same design features continue in the interior of the boat with the seat upholstery coordinated with the color of the exterior.
It is a boat that the owner can model according to his personal tastes by deciding between different solutions starting from the color.

Another feature of the Cigarette brand is the care of the command post which must be as comfortable as possible using the most advanced technologies.
The 41 Nighthawk is equipped with a state-of-the-art electric rudder integrated with a cup holder and two storage compartments. All dashboard command and control instruments including three Garmin 8617 chartplotters are installed on a panel made from a solid block of aluminum.

The outer perimeter of the dashboard is illuminated by enhanced rgb led light to generate a distinct brightness thus creating the illusion as if the dashboard is floating.
In addition, the total surface of the dashboard has an anti-reflective nanometer coating resistant to heat and fingerprints.

Stimulated by a clientele that shows a preference for ever more powerful outboards, the Cigarette 41 Nighthawk is powered by 4 powerful and reliable Mercury Racing 450R outboard motors   , with 4.6 liter V8 cylinder engines with a 2.4 volumetric supercharger. liters, with an unprecedented emotional power of 450 hp each for a total of 1,800 hp.
All electronically controlled power that allows not only to gain in performance, fuel consumption and acceleration but also in space on board. This boat with this engine can reach a speed of 88 mph (142 km / h) an excellent result for a center console boat with this size and equipment but by now we know the Cigarette Racing Team under the guidance of Skip Braver owner and Cigarette CEO likes to surprise us.