Sailing Superyacht Baracuda Valletta

When inside a company there is the owner who also the creator of so many innovative patents in the industry where the company is definitely working, it has a greater gear than the others.

A patent in itself is not a guarantee of commercial success but it surely represents a tool that increases the ability of a company to benefit from its own inventions.

This is the case with Perini Navi, which thanks to the numerous patents invented by the owner of the Company, Ing. Fabio Perini has managed to become a Leader Company in the design and construction of automated sailing ships in a few years.

Perini Navi has over time made an impressive fleet of large superyachts and is the only shipyard in the world that designs and develops and builds its own boats with unmistakable lines immediately recognizable including bridge lines with curved and long windows Flight bridges.

This type of boat is the trademark of the company.
Among the great achievements of the company is surely the luxury Supermacht Baracuda Valletta a 50 meter sailing yacht launched in 2008 very beautiful where the outdoors were designed by Perini team in collaboration with renowned yacht designer Ron Holland while the interior from ' British architect John Pawson.

The hull is made of aluminum, metallic gray with tapered golden conical and deep rudder with portholes with the unusual rectangular shape.

Baracuda Valletta can accommodate up to 10 guests in 5 rooms, including a master suite, two VIP rooms and two double cabins.

It is also capable of carrying up to 8 crew members in 4 cabins, plus an additional cabin for the captain.

Furnished to create elegant and comfortable environments, Baracuda Valletta could not miss the electric winding system, designed by the.

Pearls, carbon fiber along with robust winches running a 1,418 square foot sail plan.
Other innovations on Baracuda are the aft platform with hydraulic drive that turns into a large submersible swimming platform of 20 cm below the water surface accessed by guests through a staircase on the deck, although we must say that at the time of the Taking this boat was an innovation while today this system is also found in other motor yachts.

Another innovation is the keel that runs from 4 m (keel up) to 9.7 meters (keel down).
To complete the description of this luxury superyacht we can only report the designers of this wonderful boat.

Ron Holland, speaking to Baracuda's exteriors, says that "the development of the Baracuda project included a relatively long floating line;

This incorporates hull lines with forward floating line angles to minimize sail strength in unlocked sailing conditions and intermediate ship sections.

This hull form combined with a high-center center maximizes navigation stability.

These features are not only designed to improve the speed and ability to wrap the sail under the sail, but also to create a comfortable yacht for everyone on board. "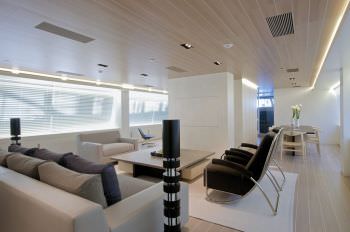 According to John Pawson speaking of the interiors it says that "… the great challenge with Baracuda was to take a particular set of spatial principles and apply them to very different conditions … to create an environment that honored the priorities of light, space and proportion Which have characterized my work from the beginning. "
The main deck is conceived as an open, non-partitioned living space, with the aim of maintaining a much clearer and more burdened field of vision than conventional ships of this type.

The wall was chosen not only for the subtle beauty of its color and structure, but also for the way it serves to dematerialize the volume of the central staircase. "
Boat Specifications
Manufacturer / designer: Ron Holland Yacht Design, Ron Holland, Perini Navi;

Type / Year: Perini Navi / 2009;
Largo 10,52 m;

Along 50,00 m;

Guests 10;

Suite 5;
Crew 8 + 1;

Maximum speed: 14 knots;

Cruising speed: 12 knots;

Engines: CAT 3412E Generat

More Info on the Yacht:
Luxury sailing yacht
Baracuda Valletta is available for charter