"52′ Thunder by Cigarette: Avant-Garde Luxury and Performance in the World of Motor Boats"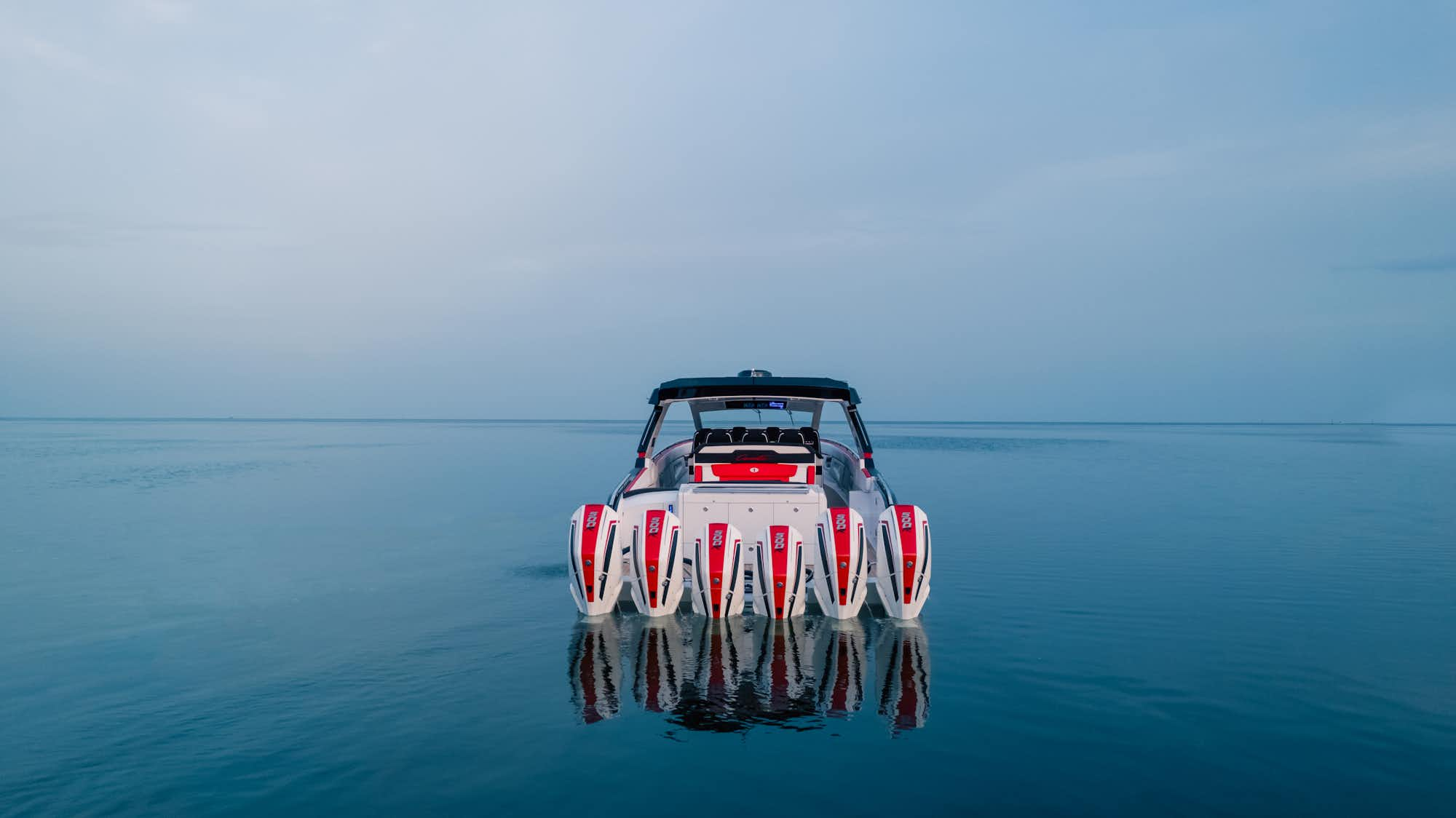 The 52′ Thunder, a brand new model introduced by Cigarette in early summer 2023, has captured the interest of customers around the world due to its excellent design and performance.
This new center console is set to become a game changer for the Cigarette brand, an esteemed American manufacturer and world leader in building the highest standard boats under the direction of Alex Ruiz, the company's new CEO.

The boat has been carefully designed to provide the ideal balance of luxury, comfort and style, with the high quality and premium services of the Cigarette brand, her sleek and streamlined design allows for efficient navigation on the water making her ideal for the yachting enthusiast who love to entertain.

The position of the 52′ Thunder in the center console Cigaretta series is between the 42 Auroris and the 59 Tirranna. The all-new stepped hull boasts a 24-degree deadrise and 14-foot beam, allowing Team Cigarette to erect her with above- and below-decks amenities.
The 52′ Thunder is 52 feet (16 m) long and 14 feet (4 m) wide and is also equipped with a bow thruster to make maneuvering in port easier, and "Seakeeper 3" gyro stabilizers that reduce roll effect of 85% can be powered with a maximum power of 3000 hp.

The new 52′ Thunder is a true luxury dayboat that can also be used as a cruiser thanks to her spacious owner's cabin and excellent offshore performance and the details and opulence expected of Cigarette Racing Team models. A large helm station with Garmin multifunction display, a fully open-air galley aft and newly designed dining lounging areas amidships and forward ensure a first-class sailing experience.

She reaches impressive speeds thanks to her six 500hp supercharged V8 outboard engines from Mercury Racing or four Mercury Verado 600 V12 positioned far out on the transom, but her real strength lies in her comfort and functionality. All the details have been studied for a well organized and practical boat.

The aft area converts into a chef's galley with fridge and sink, with ample storage space easily accessible at the push of a button.
Proceeding forward is a welcoming seating area with a central table with a space that can accommodate six, eight, or even ten people and an automatic awning that shades the entire equipped area. The retractable central table with automatic control transforms the sofa facing away from navigation into a comfortable sunbed facing the horizon, ideal for relaxing and enjoying the journey after dinner.

The driving position, protected by a magnificent hard-top, offers four seats in line, the first two of which can be lowered to facilitate the passage to the automatically adjustable command post. Driving is made even more comfortable by oversized Garmin monitors and integrated motor controls, while cup holders on the two sides add a touch of convenience.

The meticulous attention to detail that distinguishes the 52′ Thunder is a trademark of the Cigarette brand. The speaker covers are an example of this, with an absolutely fantastic design.
.
The bow offers another seating area for six to eight people, complete with a central table and a control panel to adjust the height of the table and the lighting of the whole area. The peculiarity of this area is that the automatic closing of a bow locker can be transformed into a comfortable backrest to offer an additional relaxing session where you can unwind. Although the most comfortable places when going at 50, 60.70 miles per hour to stretch out are the sun loungers in front of the command post.
In addition 52′ Thunder offers a very high spacious  cabin furnished with sofa wardrobes and wall mounted TV and opaque command windows to ensure privacy. In addition, the cabin is equipped with a bathroom with separate shower. A very comfortable cabin for those who want to rest after a day on the water that can easily be transformed into a sleeping area.
In summary, Cigarette's 52′ Thunder is a true jewel in the world of high-performance motor boats. This new model stands out as an exceptional choice for yacht enthusiasts looking to get the most out of their time spent at sea, enjoying and relaxing thanks to her perfect combination of luxury, comfort and performance.