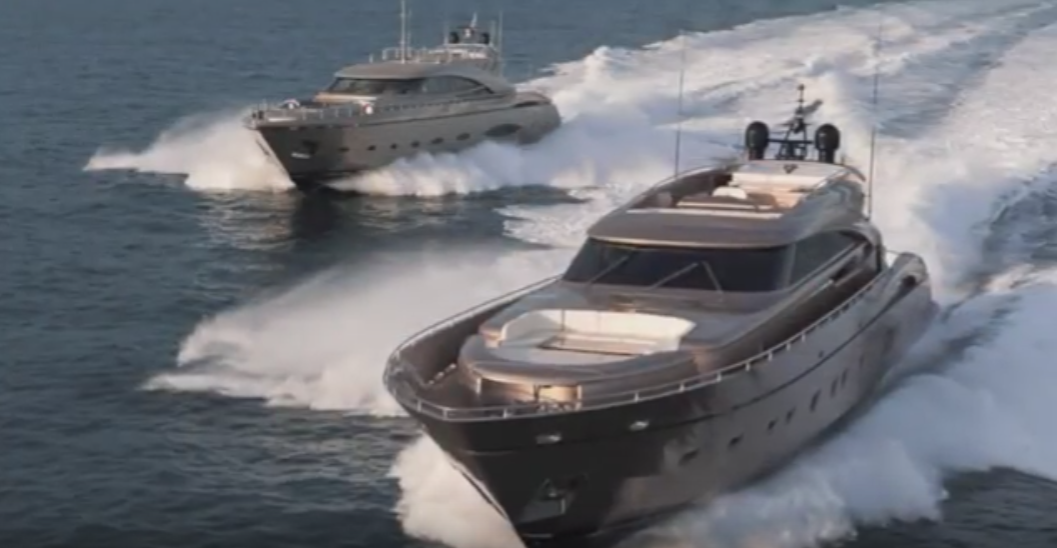 AB 116 THE FAST AND COMFORTABLE YACHT

The AB 116 is a slim-looking yacht of 36,20 meters offering every comfort with a high-speed browsing with excellent sea keeping in all conditions.

Was launched for the first time in 2011 by AB Yachts – Fipa Group has engineered the complete project by Guido de Groot Design.
In addition to high speed, and convenient for the absence of noise and vibration with a reduced consumption, burning little more than 500 liters per hour at 25 knots.

The yacht was built using the most advanced technologies and lightweight materials and belongs to the category of high-speed yacht with a jet of water as the primary source of propulsion.
The yacht comes with a spectacular beauty with sleek lines and elegant.

With fiberglass hull with plastic superstructures reinforced with glass fiber (GRP), while the dimensions are not to be super yacht it has been realized with large interior space with 5 suites for a maximum of 10 guests and can stay in up to 6 members crew.
Off 7,49 meters with 1,19 meters draft, AB 116 with three MTU engines of 2.400 hp each reaches a maximum speed of 45 knots with a cruising speed of 40 knots.

Other yachts based on this model include Musa AB 116, Diamond, AB 116, Blue Force One, AB 166.
Other technical features
Manufacturer: AB Yachts
Overview Name: AB 116;

Type: Motor Yacht;

Model: AB 116;

Manufacturer: AB Yachts.
Naval architect: Marco Arnaboldi;

The external designers: Guido de Groot Design;

Interior Designer: Guido de Groot Design
Dimensions: Overall length: 36.20m (118'9 "ft);

Width: 7.49m (24'6 "ft); Project (max): 1.19m (3'10" ft)
Accommodations – Guests: 10; Total Cabins: 5;

Crew: 6
Construction – Hull Configuration: Cover material: GRP; Superstructure: GRP
Engine (s): Quantity: 3: Fuel: Diesel;

Manufacturer: MTU
Model: 16V 2000 M93
Power: 2600hp / 1939kW; Total Power: 7800hp / 5816kW; Propulsion: Triple Waterjets
Performance and features: Maximum speed: 50.00 kts;

Cruising Speed: 44.00 kts
Fuel tank capacity: 15,000.00 L / 3,299.54 USG;

Water tank capacity: 3,000.00 L / 659.91