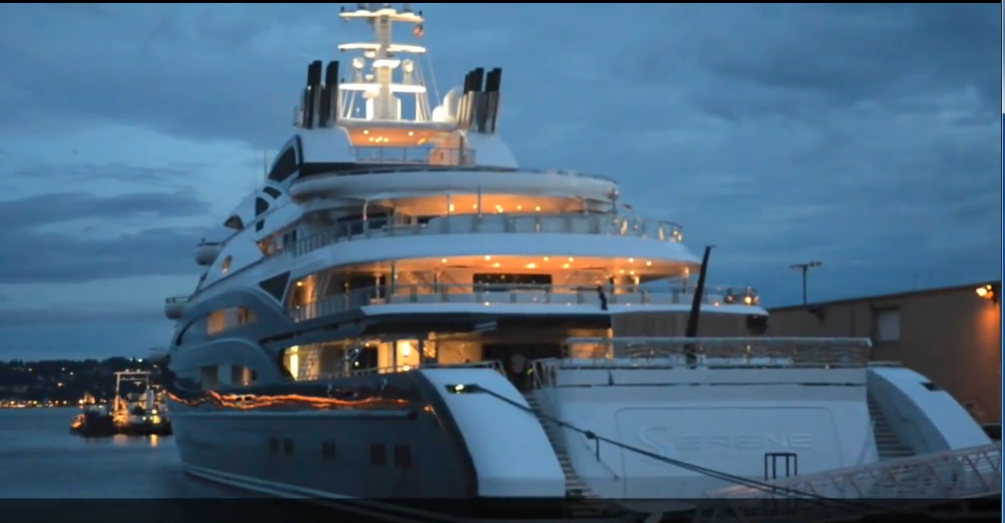 SERENE LUXURY YACHT WEBLOG ITALY

Yacht Serene is still the largest private yacht built in Italy luxury.

A yacht that appeals not just to the remarkable luxury and comfort, but the graceful way in which advances on the sea.

Engineered by Fincantieri Yachts with Espen Oeino design for the exterior, and Raymond Langton Design for the interiors was launched in 2011.
Cost $ 330 million to the king of vodka Yuri Schefler was sold in September 2015 through a lightning talks lasting a few hours and ended to the tune of about 500 million euro to 'present owner, the heir to the throne Prince Mohammed bin Salman son of King Salman of Saudi Arabia.
According to a statement by a Saudi close to the royal family, Shefler, the same day he had to leave the yacht.

The prince was struck by the beauty of Serene while he was off the coast to the South of France on holiday.
Along 134 meters is considered one of the most luxurious yachts that currently ply the seas, has everything you can imagine having on a boat.

The yacht off Serene 18.5 meters can accommodate up to 24 guests in 12 cabins, including a master suite, 1 VIP cabin, 10 cabins and 30 crew cabins that can accommodate up to 52 members.

All rooms are elegant and comfortable, making it the ideal boat to socialize, along with recreational and entertainment present.
The hull is made of steel in the very stable aluminum superstructure with a cruising speed of 15 knots and top speed reaches 20 knots.
It owns 7 bridges and many comforts including a gym, two swimming pools, including one on the sun terrace with jet streams and an indoor seawater that on occasion can 'be used as a garage for the tenders, jacuzzi with hot water and cold, a lift, Wi-Fi, air conditioning, a hangar for helicopters, two landing platforms, a submarine and a cinema.
E 'it equipped for people with disabilities who need a wheelchair and for children, who can have fun in the games room with wall climbing and slides between the bridges, and in the game room full tradition of videogames and various toys.
Among the games and on-board equipment you can choose from 4 different requirements, for sport fishing and diving gear and boat, 2 laser, kayaking, a full range of inflatable toys, water skiing, wakeboarding, equipment for underwater fishing depth.
The company Fincantieri Yachts has been awarded for this vessel as part of the World Superyacht Awards 2012, the annual event that rewards the best of the nautical sector.
Bill Gates with his family, for his holidays on the Mediterranean in the summer of 2014, he rented the yacht Serene obviously also attracted by her beauty, to the tune of EUR 5 million per week.