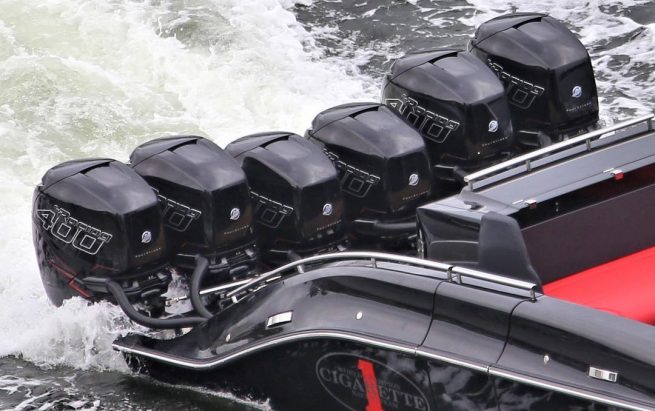 Mercury Marine and solutions for multiple outboard engine applications.
In recent years we are witnessing a real revolution in the nautical sector because the outboard engines that until recently were used for boats with a maximum length of 10 meters are now used to equip much larger boats.
As for example the central console fishing boats initially had measurements up to and not exceeding 7 meters but now they have reached exorbitant measures always pushed by enormous and powerful outboard engines.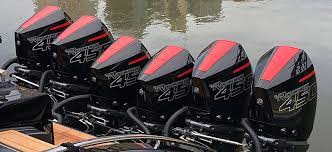 Boats of 15 meters that were previously equipped, given the size, only with sterndrive engines now or are directly powered by multiple applications with multiple outboard engines or there is also the version with this type of drive.
This is because stimulated by a clientele that shows a preference for this type of engine, the manufacturers over time have developed increasingly powerful outboard motors, electronically controlled both individually and inserted in one of the multiple applications where two, three and even four are installed. more outboard.
Power and control were the main elements that characterized the development of these engines first individually and then in multiple applications.

All power electronically controlled that allows not only to gain in performance, consumption and acceleration but also space on board.

The tendency of the users to prefer outboard motors as engines for their boats are forcing all manufacturers to large investments including the development of electronics to ensure a pleasant and safe navigation.
At the last Miami International Boat Show, one of the most important events in world yachting, Mercury Marine, a world leader in marine propulsion, has introduced a new series of advanced technological features that make it easier and more pleasant to control multiple applications to five and six outboard engines.

These technological solutions foresee that the motors can be operated by a single lever (single lever mode) or two control levers (Shaw mode) to operate an application with three, quadruple, five or six engines.
A Troll Control provides very precise low speed control in 10 rpm increments;
Cruise Control allows you to set a precise speed or rpm;
Dock Mode, replaces the throttle response of the remote control to 50 percent, allowing for more precise limited power for close-up maneuvers;
Helm Transfer, transfers the control to a secondary station with the possibility of accelerating only to heat the engines and increase the alternator current supply to charge the batteries.

The solutions do not end here the electronic steering has been made more dynamic and sensitive with an easy steering at low speeds and a more rigid steering at higher speeds.

The autopilot is fully integrated and the course control allows you to lock the course of the boat and adjust it in increments of 1 and 10 degrees.
In addition, the Joystick's way of working has been implemented to improve operations and maneuvers in tight spaces to allow docking in total safety in any situation that presents itself with zero stress and without worrying about the wind or the current.
Moreover

, other features have been added such as the Skyhook anchor (still electronic) which allows the navigator to lock the position and direction of the boat;
Drifthook, which allows the navigator to block the course of the boat and at the same time to move;
Heading Adjust, which allows the navigator to adjust the course, while the boat is engaged in Skyhook or Drifthook, in increments of 1 and 10 degrees;
Bowhook, which allows the navigator to lock the boat's position while allowing the course to swing with the wind and / or water currents.

Finally, Active Trim, which automatically cuts all the engines to their optimum trim angle based on speed with a set-up system that can control the inclination of each outboard during navigation, since a slight angle of heel is enough for large hulls so as not to allow sufficient water to flow to the motors located at the end of the motor sextet.
This electronics is always supported by Mercury's VesselView user interface, which displays data on all five of the six engines on one screen.
In this regard, Kris Neff, vice president of global management of categories and strategic planning at Mercury Marine has released the following statement:
"We have specifically designed these solutions to address the dynamics and unique properties of five and six engine configurations on larger boats," "To match or exceed what we've already done with matrices from two to four engines, a significant software research and programming to maximize the contribution of each engine in the various throttle maneuvers and settings ".

The outboard motors used to push boats up to and over 15 meters across multiple applications represent a real trend change that is destined to grow, creating new opportunities for construction sites and great competition between them because they are the world's best-selling boats.