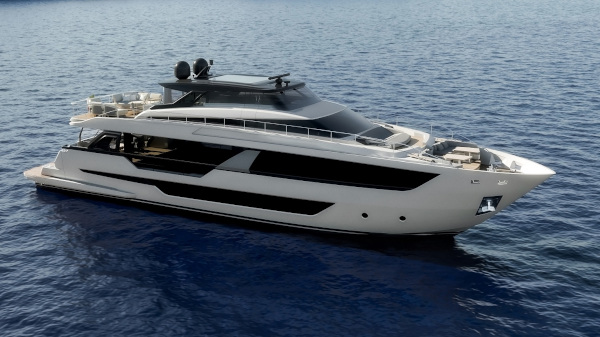 Ferretti Yachts Unveils the New 1000 Skydeck with a Completely Renovated Upper Deck, Combining Elegance and Innovation.

Ferretti Yachts has presented its latest flagship, the Ferretti Yachts 1000 Skydeck, featuring a completely renovated upper deck that offers a closed and protected environment to be enjoyed all year round.
The Ferretti Yacht Group is one of the world's leading luxury yacht manufacturers, based in Forlì, Italy. Founded in 1968 by Alessandro and Norberto Ferretti, the company has gained a wide reputation for its quality, design, and innovation in yacht production.
Ferretti Yacht is synonymous with luxury, elegance, and prestige in the yacht market, offering a wide range of models, from 8-meter boats to 30-meter or more cruise ships.

The Ferretti Yacht Group is distinguished by its great attention to detail, quality, and reliability of its products, along with a strong dedication to innovation and advanced technology. With a global presence, the Ferretti Yacht Group represents an important reference point for the Italian nautical sector and is a symbol of excellence in Made in Italy worldwide.
The new Ferretti Yachts 1000 Skydeck is the result of the collaboration between the Product Strategic Committee, led by engineer Piero Ferrari, and the Engineering Department of the Ferretti Group.
Thanks to the experience and competence of these professionals, the new model has been designed with great attention to detail, functionality, and safety on board, making it a true flagship of the company.
The upper deck of the Ferretti Yachts 1000 Skydeck is completely closed by glass and connected to the control station and the cockpit by a staircase, as well as to the bow terrace, offering a real second living space on a yacht that can meet the needs of any market.
The exterior design of the new Ferretti Yachts 1000 Skydeck has been curated by architect Filippo Salvetti. Salvetti is known for his sophisticated and innovative style and has already collaborated in the past with Ferretti Yachts, participating in the creation of other successful yacht models.
The interior design of the Ferretti Yachts 1000 Skydeck, on the other hand, has been curated by the Ideaeitalia studio, specialized in luxury yacht interior design. The result is an elegant and modern environment, characterized by the use of precious materials and high-quality finishes. The first unit of the new model will be launched in the summer of 2023.