The Skipper 42:Extreme speed and luxury meet sailing
BSK Marine is a Greek brand founded in 2000 by Pavlos Stavroula, expert builder of semi-rigid motorboats. BSK marine boats, the so-called RIBs (Rigid Inflatable Boats), consist of a rigid hull and a floating body. The flagship product of the series, called Skipper 42, was designed by Stavroula and is also the forerunner of larger units such as the 45, 50 and 60 foot units that the manufacturer intends to develop. The BSK Marine brand is marketed in France by STT Yachting with a production of approximately 60 Skipper units per year.
Each Skipper can be customized according to the client's needs and wishes. For speed enthusiasts, there is the possibility of requesting a version made entirely of carbon fiber and equipped with racing engines.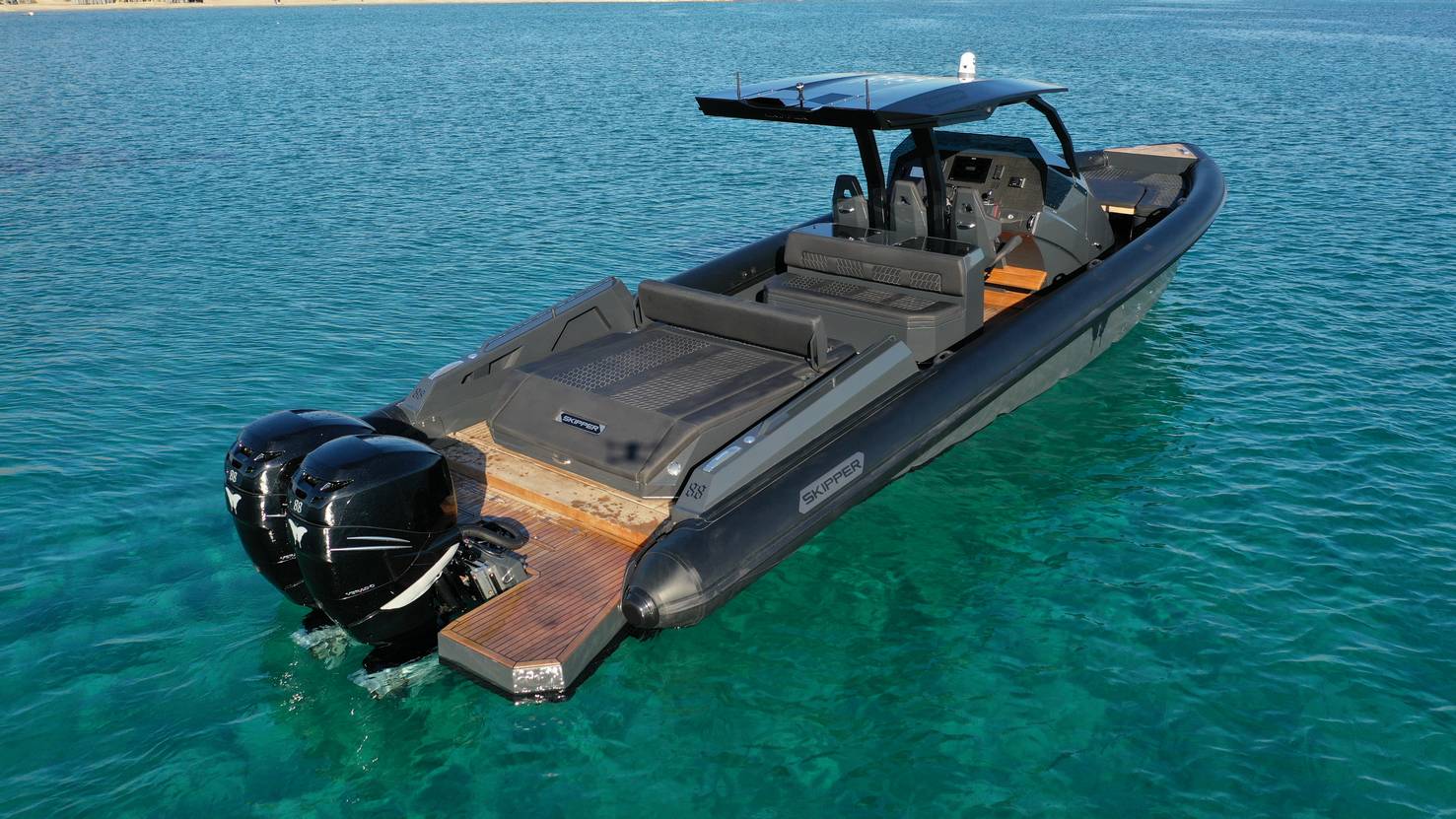 The Skipper 42 combines luxury and sportiness with excellent comfort and for its size a remarkable habitability. Like all BSK skippers, it is designed to reach high speeds and deal with rough seas. The shipyard has dedicated years to researching and developing the perfect and resistant hull, capable of withstanding the strong gusts of wind typical of the eastern Mediterranean and its surrounding waters.

The Skipper 42 is overall long: 42 feet (12.40m) – Width: 12 feet (3.60m) Internal width 8 feet (2.40m) -Fuel tank capacity: 232 gallons (880 lt)- Water tank capacity: 45 gallons (170lt) -Transom shape: V V4step Blind angle: 25°- Maximum HP: 4x 450 – Minimum HP: 2 Volvo Penta D6-440 and DPi units – Recommended HP: 2x 440HP Diesel – 2x 600HP V12
The Skipper 42 is an excellent RIB designed for maximum comfort and performance. At 42 feet in length, she offers ample space for up to 12 passengers to relax and enjoy cruising. The unique design of the Skipper 42 will get noticed wherever she goes. The large deck is perfect for sunbathing, enjoying a meal or just relaxing with friends and family.

The inside of the boat is also great, with a comfortable bed, toilet and shower. Access to the cabin is achieved by electrically lifting a sort of wing, while the access steps in transparent plexiglass with non-slip coating demonstrate the attention to detail and the high standard of quality desired. Everything has been meticulously created with a meticulousness, perfectionism and thoroughness at the highest level.

At the bow, the living room with sofa and central table transforms into a wonderful sundeck. The armchairs in front of the cockpit offer the most comfortable seats. The helm station, protected by a fiberglass T-Top, guarantees excellent stability even at high speeds.

The Skipper 42 is also equipped with advanced technology and first class digital features that make cruising a pleasant experience. Powered by two Volvo Penta D6-440 engines or four Mercury 450R engines, she can cater for all needs. 
Indeed, these powerful engines allow the Skipper 42 to offer exceptional speed performance. With loads of horsepower, this semi-rigid boat can propel itself through the water at incredible speeds. Depending on the engine configuration, speeds vary between 57 and 80 mph (50 and 70 knots), ensuring a very thrilling cruising experience. 
Above all, equipping this boat with four Mercury 450R engines is an option that can reach even more incredible speeds. Thanks to this configuration, the Skipper 42 can reach speeds in excess of 100 miles per hour, allowing passengers to enjoy a feeling of pure adrenaline and power on the surface of the water.

This incredible speed allows you to maximize the Skipper 42's potential in a wide variety of activities. Whether it's a day trip or a long trip, this boat will tick all the boxes. Thanks to a fuel consumption of 2.0-2.5 liters per mile, the Skipper 42 strikes a good balance between performance and efficiency.
 In summary, the Skipper 42 is an excellent vessel offering the perfect combination of luxury, performance and versatility. This semi-rigid boat will exceed all expectations and provide an unforgettable experience on the water.