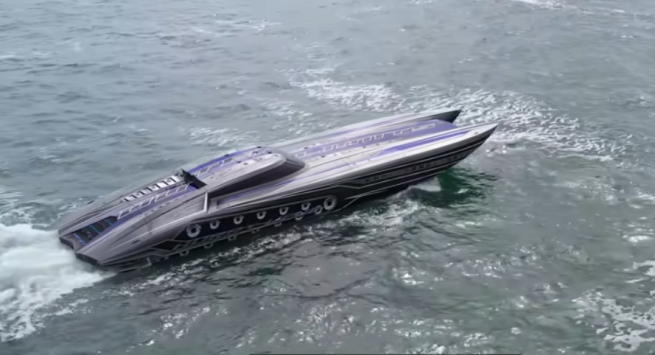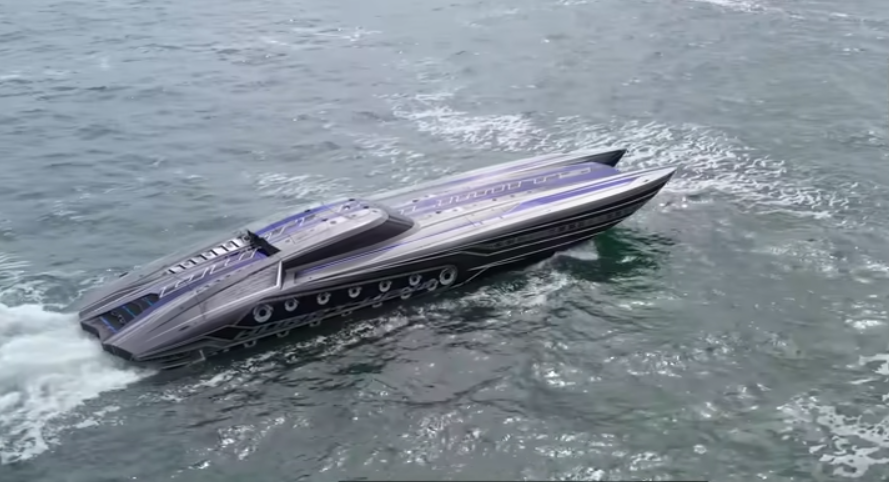 SC-46 the high performance catamaran by Outerlimits.

Since the development of modern construction technologies and new materials such as carbon fiber have made it possible to build ever more beautiful, compact, resistant, light and above all fast stable catamarans with exceptional maneuverability, they have been used in world offshore championships or as boats high performance.
There are even some companies that only build fast catamarans, others both monohulls and catamarans such as the Outerlimits Offshore Powerboats American company based in Bristol, RI a city in the United States of America, which builds sports monohulls with V-bottom and catamarans high performance. This Company holds the world speed record on water with 180.465 mph equal to just over 290 km / h per V-bottom boat.
Only catamarans are able to overcome this speed and the same company has built a boat with an impressive speed using his 46 foot (14m) catamaran large 12 (3.66 m) wide called SC 46.
This carbon fiber Outerlimits boat powered by two supercharged Mercury Racing QC4v 9 liter V8 inboard engines with 1,550 hp each with transmission to M8 Drives Racing with racing set-up with favorable weather / marine conditions reaches the amazing speed of 186 mph equal to 300 km / h.

The boat weighs only 5,445 kg driven by a total power of 3,100 hp, it has an incredible power to weight ratio of 1.756 kg per hp.
A crazy thrilling speed that no one will ever try to achieve except a good offshore pilot who has collaborated over time in the development of the boat.  
 The Mercury Racing QC4v 1,550 is an engine not only for competitions, but also for fast pleasure, it has been designed for sports users who want to experience the thrill of a 1,550 hp racing engine, but with the possibility of reducing the power at 1,350 hp using low octane gasoline (normally available on the market). The Mercury Racing QC4v 1,550 is equipped with an innovative control system that allows the driver to change the power by means of the double electronic ignition key. In Race mode it transforms the engine, with a power of 1,550 hp but fueled with 112 octane petrol. The key in Pleasure mode is instead selected when you want a more "relaxed" navigation with 1,350 hp and 98 octane petrol.

The SC 46 catamaran driven by a pair of engines, powered in 1,350 hp Pleasure mode, each still manages to reach a speed of more than 105 mph equal to 170 Km / h thanks also to the quality and design of the Outerlimits hull. This heartbeat speed limit from pure adrenaline rushes the manufacturer ensures that it can be reached and managed easily without necessarily being a Formula 1 sea pilot.    
The SC 46 hull is solid, light and durable because it is made with the best construction technique existing today where carbon fibers are vacuum-infused with epoxy resins and then all cooked in a huge oven. The deck of the hull descends towards the water to lower the center of gravity of the boat and thus further increase stability and thus guarantee a comfortable  ride both at sustained speed and in rough waters during trajectory and turns.
The hull graphics created, like many others in the Outerlimits range, by Stephen Miles Design is simply amazing.
This elegant cat with futuristic clear lines out of the box can be used with the completely closed canopy configuration with the possibility of being always repaired with the boat that can be used all year round or in the open top version.
The cockpit can accommodate up to 6 people with 2 wraparound seats forward for the pilot and co-pilot with dual controls immediately behind another 4 for passengers with ample legroom. All passengers are safe thanks to the adjustable seats and reinforced with safety belts. In the canopy configuration with conditioned area at the driving position, it can be accessed through a side entrance together with the passengers or directly from an openable canopy roof. For exit there is another possibility for safety in the bottom of the catamaran in case it overturns.

The driving position equipped with three Garmin flat screens is super accurate in every detail to make it as functional and comfortable as possible. For the interior, we wanted to create an atmosphere of great sporty luxury by using refined leathers worked in a particular way that highlight the stitching and the contours of the entire upholstery, all made with perfectionism and scrupulousness to satisfy the most demanding customers who appreciate the quality of the details.