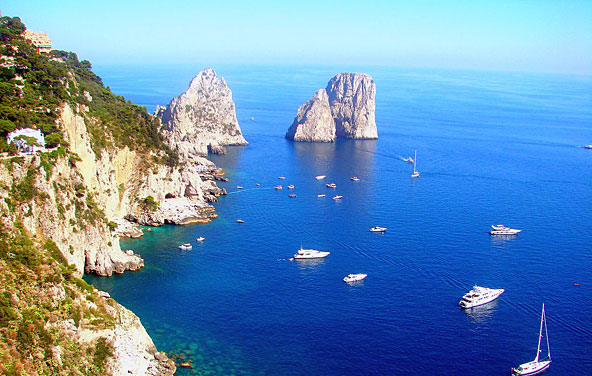 In Capri, of course, you arrive by sea. Hydrofoils and ferries leave from Naples and Sorrento. In summer there are also to Positano, Amalfi, Ischia and Salerno. For most of the year is not permitted the landing of cars on the island, if not those of residents in Capri. On the other hand the machine here is of little use: you should always leave the ground.
How to get to Capri from Rome
From Roma Stazione Termini there are several trains to Naples. • Eurostar Freccia Rossa (TAV): the fastest train, it takes just over an hour to connect Rome and Naples. . • Intercity takes just over two hours from Rome – Naples. Interegionali: they are slower trains, making all the stops and take about 4 hours to get to Naples. From Rome Ciampino Airport: once in Rome Ciampino Airport, take a bus to Termini and then follow the directions above.
How to get to Capri from Naples
The boat to Capri from Naples start at two ports :. Molo Beverello and Calata Porta di Massa.Il Beverello is located in front of the Angevin, Calata di Massa is located about one kilometer to the east. There is a free shuttle that connects the two ports. Beverello hydrofoils leave Calata di Massa and fast ships (the only ones who can take on cars and motor vehicles). The hydrofoils are a bit 'faster and more expensive ferry. The schedules of ferries and hydrofoils to Capri may change: always check a few days before departure, or contact the shipping companies, especially in bad weather! Tickets can be easily purchased at the pier, but in July and August and on weekends it is advisable to arrive at the port with a lot 'in advance, so you do not stay on the ground because of overcrowding. Tickets can also be purchased online through the service offered by TraghettiLine
How long does the journey Naples – Capri
• Ferry: 80 minutes • Fast ferry: 50 minutes • Hydrofoil-catamaran: 40 minutes