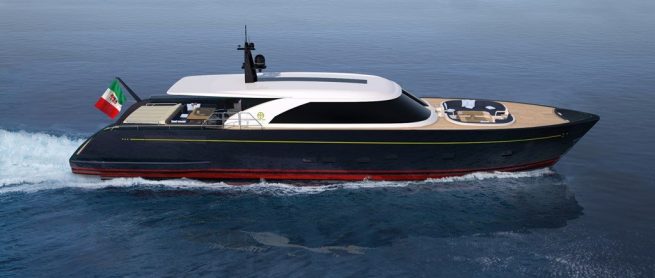 Perini Navi the new Eco Tender 25 m, a very special cabin cruiser.
Totalale alimentazione/Total power supply /clicca/click
>>>>>>>>>>>>>>>>>>>>>>>>>>>>>>>>>>>>>>>>>>>>>>>>>>>>>>>>>>>>>>>>>>>>>>>>>>>>
Informatica per tutti clicca/ Informatics for everyone/click
>>>>>>>>>>>>>>>>>>>>>>>>>>>>>>>>>>>>>>>>>>>>>>>>>>>>>>>>>>>>>>>>>>>>>>>>>>>>
Radiocomunicazioni/Radio communication/scopri di più/Find out more

The support boats or "shadow boats" are usually long boats between 20 and 36 meters designed to offer additional spaces when the mega yacht is not enough.
They are boats that are used by ship owners who already have large yachts but do not have enough space to always meet their needs.
They are boats that usually when used in cruising serve or to reach places where it is not possible to moor with a larger ship or for the overnight stay of the crew, but also of guests or to make room to contain cars and other services.
In addition to satisfying other shipowners' extravaganzas such as helicopter platforms, saunas and more, they can also be equipped to follow regattas.
To satisfy a request of this type, Perini Navi presented the projects for two new boats, one of which concerns a 25-meter cabin designed to be the support boat for large yachts.

This boat is called Eco Tender while the other project announced concerns the construction of a 42-meter sailing yacht called S / Y "Evolution".
The two projects have been presented together because both offer innovative technological and functional solutions such as the choice of hybrid engines that go well on both small and large boats including sailing boats.

In fact, both boats will mount a complicated system of hybrid hybrid propulsion, ideal for sailing in absolute serenity and safety.
"We have accepted the challenge of creating these two new boats with great enthusiasm, commented Lamberto Tacoli, President and CEO of Perini Navi – We are working on new projects with the aim of further strengthening our offer while keeping intact the essential values ​​of Perini Ships: tradition, quality and innovation ".

Going into the specific design of the Eco Tender, the owner asked to create a smaller twin, with all the characteristics of his Perini flagship .

With very flexible interior spaces that can accommodate guests including children.
To meet these needs, Perini home designer Franco Romani and his team have designed a 25-meter aluminum boat that is a mix between a tender and a chase boat.
The interiors as they have been requested provide additional accommodation with elegant contemporary style for family and guests.
Obviously the boat is fully equipped including the presence of two drones on board able to go ahead, to explore hidden areas or even for leisure to take some pictures and videos during the holidays.