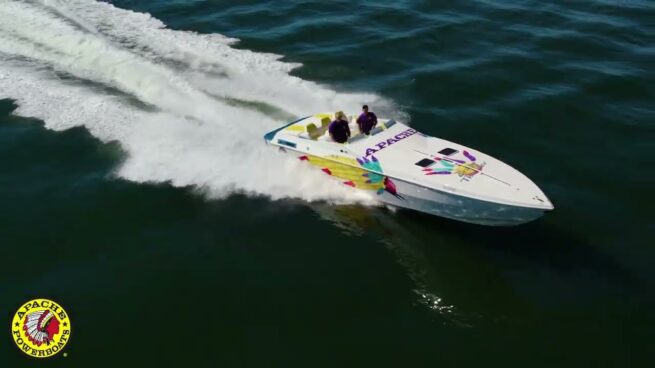 "Apache 36′ Crazy Thunder: A Legacy of Power, Precision and Beauty on the Waves"

The Apache 36′ Crazy Thunder is much more than just a boat.

It is a timeless icon that has defied the changing tides of the marine world since its debut way back in 1998. This extraordinary vessel, which carries with it a rich heritage, has recently been expertly restored by one of the most legendary boat builders, Mark McManus. This meticulous restoration has brought Crazy Thunder to life again, allowing sea lovers to enjoy all her splendor.
The connection between McManus and this Apache dates back to the 1980s, when the master craftsman created the mold for the hull of this marine wonder. That project, imbued with passion and dedication, has now been taken to a whole new level.

McManus, with his reputation as a legendary boat builder, applied his magic touch to Crazy Thunder. This is not just a restoration job, but a complete transformation. Every part of this Apache was stripped down to the hull and deck, allowing McManus to rebuild her with a keen eye for perfection and a commitment to excellence.
The materials used in this reconstruction were selected among the best available on the market. From the internal structures to the external parts, nothing has been left to chance. The transom, stringers and even the fuel tanks have been replaced with higher quality components, ensuring not only durability but also optimal offshore performance. McManus has used the latest technology to ensure this Apache embodies the best of modern engineering.
This Apache 36′ Crazy Thunder is not just a restored boat; it is a masterful creation that blends traditional craftsmanship with contemporary innovation. Every curve has been carefully shaped, every detail has been perfected to create an unparalleled harmony between form and function. McManus was not content to restore the Apache to its former glory; he has raised the bar, creating a work of art that defies time and technology.

Every centimeter of this boat tells a story of dedication, of perfection sought and achieved. Having this Apache isn't just about owning a boat; it means coming into possession of a floating work of art, a tangible testimony to the extraordinary talent of Mark McManus.
For marine enthusiasts and those who appreciate authentic craftsmanship, the Apache 36′ Crazy Thunder represents the opportunity to own a one-of-a-kind piece. It's not just a boat; it is a declaration of perfection, a celebration of beauty and technology, and above all, an invitation to experience the sea with style and class.
When you look at the Apache 36′ Crazy Thunder up close, it's impossible not to be fascinated. Every detail has been attended to with the utmost precision, testifying to the unrivaled craftsmanship present within Apache Powerboats.
Among the most notable features of this Apache is the presence of customized consoles, one of a kind. The cockpit has been designed with pinpoint precision, ensuring that every control is easily accessible, immersed in luxury and comfort. Inside, the unique cockpit design welcomes us into a functional and luxurious space. The interiors, carefully embroidered and personalized, tell a story of opulence and style. Every detail has been carefully taken care of, creating an environment that embodies the utmost in comfort and elegance. This is not just a place to drive your boat, but a floating luxury retreat.
 The innovative Latham hydraulic rudder offers unparalleled ease of handling, ensuring every turn is smooth and responsive, allowing enthusiasts to navigate the waters with safety and confidence.
The navigation technology adds a touch of modernity,  thanks to the Garmin 8612 GPS map, ensuring smooth and safe navigation, especially in unfamiliar waters.
The presence of a custom aluminum bathing platform not only adds a touch of elegance to the overall design but also offers convenience. It is the ideal place to dive into the crystal clear waters or simply relax, providing an environment built for both utility and aesthetics.
The fuel capacity of 275 gallons, distributed across three tanks, offers unlimited range for marine adventures. This triple fuel tank allows you to explore new horizons without having to worry about unexpected interruptions.
This vessel is ready to take us far away, away from the coast and into the infinite blue with the peace of mind of a reliable and abundant fuel supply.
Mark McManus' 100% complete restoration of Crazy Thunder, completed in September 2023, represents the pinnacle of artistry and engineering in the world of boats. This boat, with a length of 36 feet (10.97 m) and originally built in 1998, has been completely transformed into a technological and aesthetic marvel.

However, the most impressive aspect of the Crazy Thunder is its brute strength. Featuring Twin Mercury Racing SCI 700hp engines, this vessel roars as it glides gracefully across the water during sea trials. This power, combined with the precision of the design and control system, creates an unparalleled driving experience.
These engines, carefully maintained and with limited hours, offer unmatched reliability and performance. Every time you raise the anchor to sail the sea, these engines under the hatch guarantee the adrenaline of pure power and speed that only an Apache can offer.

In conclusion, the Apache 36′ Crazy Thunder is not just a restored vessel; she is a technological work of art and a sensory experience. Every detail, from the navigation technology to the luxurious interior, has been designed to offer the ultimate in performance and comfort. Owning this boat means not only owning a vessel, but embracing a lifestyle, a passion for adventure and a love of the sea that are truly unparalleled. With Crazy Thunder, every voyage becomes an epic adventure, a celebration of the beauty and power of the sea, and a testament to Mark McManus' limitless ingenuity in the world of high-performance boats.