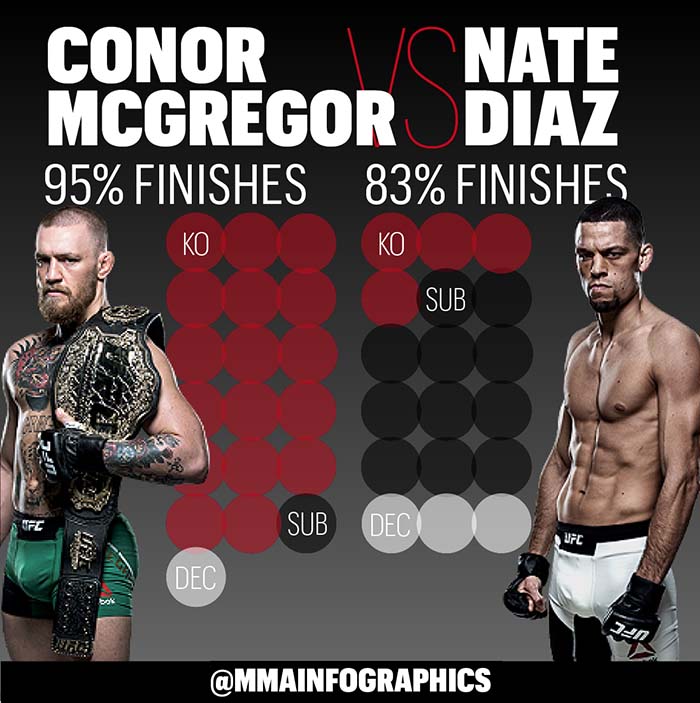 MMA THE REVENGE OF THE YEAR CONOR MCGREGOR VS NATE DIAZ

The fever rises for the eagerly-awaited rematch between Conor McGregor and Nate Diaz expected in Las Vegas on August 20. Only after we know who really is the strongest fighter in the welterweight class. Recall that Nate Diaz is the holder of the UFC title while Conor attempt in the difficult business of winning the category after having already lost to Nate Diaz for the same title on March 5, despite being considered by all osservator the favorite, after winning fifteen meetings consecutive in the featherweights.


Certainly Conor forced to meet Diaz in a category of higher weights surely has a disadvantage, but before the match lost 5 March Conor everyone's eyes seemed invincible with a number of matches won in the first few minutes of the first round, and no one expected this defeat despite gareggiasse is in a category of weights slightly higher than its natural category of weights.
After this meeting Conor comes out a little downsized and for the rematch has a little 'review its strategy in the management of the match.

As his style Condor McGregor has boldly declared to have an open issue with the Californian Nate Diaz and next August 20th will close the practice with him.

I remind you that winning against Nate Diaz, Conor will be the athlete who has won the UFC title in the three categories feather-light – welterweight.
To win Conor will definitely rethink restructure its forces throughout the match, and think that the meeting could last more than a few shooting, as usually he is used to fix the match.

In fact, in the last match lost McGregor, has clearly won the first round, but spending a lot of physical and nervous energy hitting hard at the stage standing Diaz, who has demonstrated inter alia to be a great setter and fighter resisting the dint of McGregor and despite having reported annoying and bleeding cuts to the face, in the second round Conor forced to surrender by submission through a beautiful guillotine proving to have more experience and be stronger during the match phase carpet.
Aware of this, and Whereas, the back may return match of the ground fighting stages, McGregor, as never before in his career, is making a targeted preparation honing his preparation in phases and ground training with sparring partners with the same tonnage and also higher Nate Diaz.

Therefore there are all the ingredients to assist on 20 August in a thrilling encounter between two fighters really strong MMA.