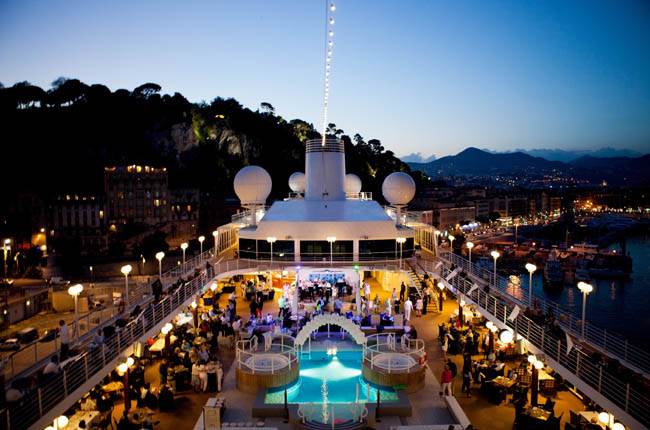 Le mega navi da crociera più grandi del mondo.
Con quest'articolo prenderemo in rassegna le tre navi  da crociere più grandi del mondo.
Si tratta ovviamente solo di una classifica provvisoria, finché sarà in crescita la vacanza croceristica di massa, ci sarà sempre più interesse a costruire adesso e nei prossimi anni altre navi in grado di ospitare sempre più passeggeri per volta a prezzi sempre più competitivi con un livello di comodità e servizi che solo navi di questa classe riescono a garantire. Ormai sono circa trent'anni che la vacanza croceristica da un genere di lusso si è trasformata a vacanze di massa proprio attraverso la costruzione di queste mega navi da crociera.

Il terzo gradino del podio è detenuto da una terna di navi, tutte della Royal Caribbean International: per anno di costruzione abbiamo la Freedom of the Seas (2006), la Liberty of the Seas (2007) e l'Independence of the Seas (2008), tutte dotate di una stazza di 154.407 tonnellate. Possiedono una capacità di circa 5000 unità tra passeggeri e personale di bordo.

Al secondo posto della classifica, troviamo la Norwegian Epic, fiore all'occhiello di NCL e cioè la compagnia Norwegia Cruise Line, con sede in Florida. A bordo possono salire 4.100 passeggeri, alloggiati in 2.114 stanze, posizionate su un totale di 19 ponti e che sono serviti da un equipaggio di oltre 1700 membri. La sua stazza è pari a 155.873 tonnellate.

Alla prima posizione troviamo la nave Oasis of the Seas della Royal Caribbean varata nel 2009 lunga 362 metri, larga 47 metri e stazza 225.282 tonnellate lorde. Può accogliere oltre 6 mila passeggeri, a bordo lavorano 2.165 membri dell'equipaggio di 65 diverse nazionalità. Mai come per questa nave la definizione di città galleggiante è stata azzeccata.
Detiene il record delle cabine (2706) dell'altezza totale, anche se con "solo" 16 ponti . A dire il vero sulla lunghezza ha perduto il primato, a causa della nave gemella Allure of the Seas inaugurata nel 2010, che alla misurazione è risultata essere 50 mm (5 cm) più lunga di Oasis of the Seas.
A stracciare tutti i record ci penserà la Harmony of the Seas, terza gemella di classe Oasis, che solcherà i mari nell'aprile 2016 e sarà in assoluto la nave più grande al mondo. Oltre a tale primato oggi di proprietà delle sue gemelle Allure e Oasis, Harmony, con i suoi 16 ponti d'innovazione e divertimento offrirà ai suoi ospiti, i tre scivoli multipiano, con curve e avvitamenti mozzafiato che offriranno una discesa a tutta velocità dal ponte più alto.
Per trovare una nave italiana dobbiamo scendere al 10 posto con le due navi MSC Splendida e MSC Fantasia a pari merito della MSC Crociere.
Le due "ammiraglie" della compagnia italo-elvetica hanno una stazza da 139.400 tonnellate, ciascuna in grado di trasportare a bordo oltre 3.200 passeggeri. La loro lunghezza di quasi 330 metri è comunque notevole, e per questo parametro sarebbero tra le prime 5 navi passeggeri del mondo.